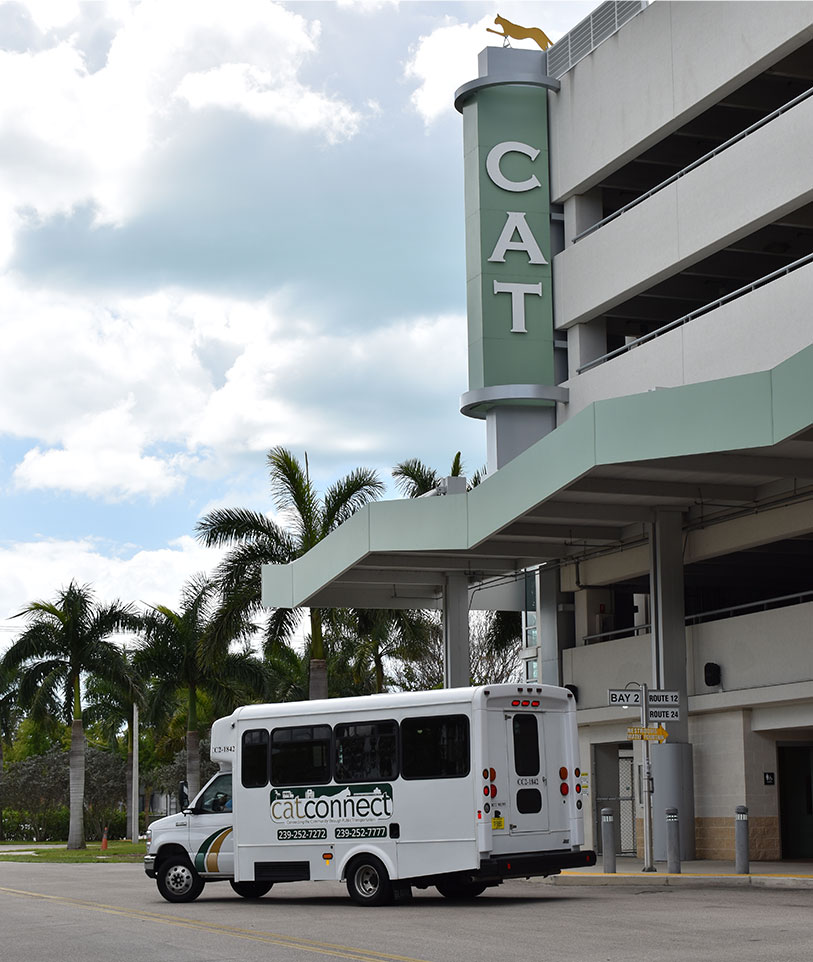 CATConnect (Paratransit Service)
Collier County Public Transit & Neighborhood Enhancement (PTNE) Division administers the Paratransit system known at CATConnect for Collier County.
CATConnect is a shared ride door-to-door transportation service provided for individuals who do not have access to any other means of transportation, including the Collier Area Transit (CAT) bus service (fixed route). The CATConnect program provides transportation service for eligible individuals through several funding programs, including the Florida Department of Transportation, Agency for persons with Disabilities and Florida Commissions for the Transportation Disadvantaged.
CATConnect can be used for medical appointments, work, school and other trips depending on the funding program the individual qualifies under. Cooperation and flexibility from customers will allow CATConnect to better serve its customers.
How to Apply
To learn more about the eligibility requirements of the system please read below. Individuals who are interested in using the paratransit service must apply through a written application and may contact the Mobility Manager Office at 239.252.7272 Monday through Friday from 8:00 a.m. to 5:00 p.m. Applications can be found by clicking here.
---
Community Transportation Coordinator (CTC)
Collier Area Transit (CAT) is the designated Community Transportation Coordinator (CTC under Florida Statute F.S. 427 for Collier County. As the CTC, CAT administers the coordination of transportation service for the disabled and economically disadvantaged through the Florida Commission for the Transportation Disadvantaged. To ensure that the provision of these services is safe, efficient and cost effective, the Board of County Commissioners has appointed a Local Coordinating Board (LCB) to monitor the service levels.
---
Local Coordinating Board
The Local Coordinating Board (LCB) has established by the Board of County Commissioners to identify local transportation service needs and provide information, advice, and direction on the coordination of services to be provided to the transportation disadvantaged. The LCB also reviews the amount and quality of service being provided to the County's transportation disadvantaged population. The Collier LCB meets on a quarterly basis and holds at least one public hearing a year. For information on the next LCB Committee Meeting visit the Collier Metropolitan Planning Organization (MPO) website.
---
Alternative Service
Collier Area Paratransit is not the Medicaid Transportation Provider for Collier County. Medicaid clients must receive their Medicaid transportation through MTM, Inc. at 1.844.239.5974. MTM, Inc. is contracted with the Agency for Health Care Administration (AHCA) to coordinate Non-emergency Medical Transportation (NEMT) services for individuals enrolled in fee-for-service Medicaid.
For general information, complaints or unsatisfactory resolutions to problems regarding Medicaid, you may contact the AHCA Area Field Office at 1.800.226.6735, fax at 239.338.2642 or; 2295 Victoria Avenue, Room 309, Fort Myers, FL 33901